Venue & Hospitality
Hotel: Holiday Inn Rome - Aurelia, Rome, Italy
Conference Dates: March 09-10, 2020
Hotel Services & Amenities
Audio/Visual Equipment Rental.
Business Center.
Business Phone Service.
Complimentary Printing Service.
Express Mail.
Fax.
Meeting Rooms.
Office Rental.
Photo Copying Service.
Secretarial Service.
Telex.
Typewriter.
Video Conference.
Video Messaging.
Video Phone.
ATM.
Baggage Storage.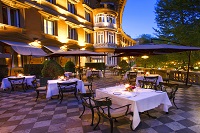 About City
Rome, Italy is one of the great cities of the world. With its history spanning thousands of years, its monumental architecture, fabulous piazzas, colorful markets and character-filled streets, it's truly dazzling at every turn. But if you're embarking on a trip to Rome, you need a strategy. Otherwise, you risk getting overwhelmed by the sheer volume of things to see in the Eternal City.
A heady mix of haunting ruins, awe-inspiring art and vibrant street life, Italy's hot-blooded capital is one of the world's most romantic and charismatic cities.
The result of 3000 years of ad hoc urban development, Rome's cityscape is an exhilarating sight. Ancient icons such as the Colosseum, Roman Forum and Pantheon recall the city's golden age as caput mundi (capital of the world), while monumental basilicas tell of its history as seat of the Catholic Church. Lording it over the skyline, St Peter's Basilica towers over the Vatican, testifying to the ambition of Rome's Renaissance popes and the genius of its game-changing architects. Elsewhere, ornate piazzas and showy fountains add a baroque flourish to the city's captivating streets.
Few cities can rival Rome's astonishing artistic heritage. Throughout history, the city has starred in the great upheavals of Western art, drawing top artists and inspiring them to push the boundaries of creative achievement. The result is a city awash with priceless treasures. Ancient statues adorn world-class museums; Byzantine mosaics and Renaissance frescoes dazzle in art-rich churches; baroque facades flank medieval piazzas. Stroll through the centre and without even trying you'll come across masterpieces by the titans of European art – sculptures by Michelangelo, paintings by Caravaggio, frescoes by Raphael and fountains by Bernini.
A trip to Rome is as much about lapping up the dolce vita lifestyle as gorging on art and culture. Idling around picturesque streets, whiling away hours at streetside cafes, people-watching on pretty piazzas – these are all central to the Roman experience. The tempo rises in the evening when fashionable drinkers descend on the city's bars and cafes for a sociable aperitivo (drink with snacks) and trattorias hum with activity. Elsewhere, cheerful hordes mill around popular haunts before heading off to hip cocktail bars and late-night clubs.
Eating out is one of Rome's great pleasures and the combination of romantic alfresco settings and superlative food is a guarantee of good times. For contemporary fine dining and five-star wine there are any number of refined restaurants, but for a truly Roman meal head to a boisterous pizzeria or convivial neighbourhood trattoria. That's where the locals go to indulge their passion for thin, crispy pizzas, humble pasta dishes, and cool white wines from the nearby Castelli Romani hills. To finish off, what can beat a gelato followed by a shot of world-beating coffee?